Georgia Mountain Pregnancy Center Fundraiser Thursday, March 30, 2023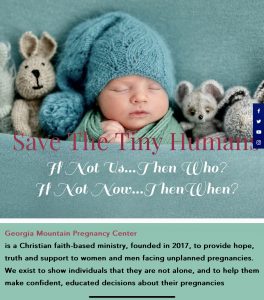 The 6th Annual GMPC Fundraiser will be Thursday, March 30, 2023. There will be two seatings: Luncheon at Noon or and Dinner at 6PM. The event is at the House of Prayer Family Life Center, 1400 Pat Colwell Road, Blairsville, GA 30512.
The meal offering is chicken, vegetarian, or gluten free.
For those who attended last year, Mike Williams is again the guest speaker. Last year, he was funny and very informative.
As a reminder this is the annual fund raising event for GMPC so, while the meal is free, your tax deductible donation is appreciated.
John Alger can take your reservation in the second service, or, you can contact him using our directory.
Finally, if you can not attend but would like to make a donation, John can arrange that too.