Women's Daytime Bible Study Begins Wednesday, March 1, 2023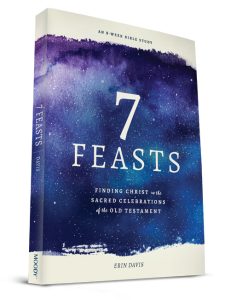 The Women's Daytime Bible Study will meet each Wednesday morning over 8 weeks from 10:30AM-11:45AM in the Fellowship Hall, March 1-April 26, 2023. Verlee and Holley will be leading this study by Erin Davis, called 7 Feasts: Finding Christ in the Sacred Celebrations of the Old Testament.
Please click here to sign up.
From Erin Davis' website…
It's hard to know when you read about the Feast of Booths why exactly it matters for your life. What in the world is the Feast of Trumpets supposed to be teaching you? And, in this case, the text itself doesn't tell you. You need a resource, a guide that can help you understand the cultural significance and how these feasts relate to the rest of the Bible.
That's exactly what Erin Davis does in this new 8-week Bible study, 7 Feasts. Topics include: The significance of these feasts and why God wanted His people to celebrate, how each of them point to Jesus and His work in redemption, and why all of this matters for our lives today.