Good Friday Offering April 7, 2023 is for Christ Church, Jerusalem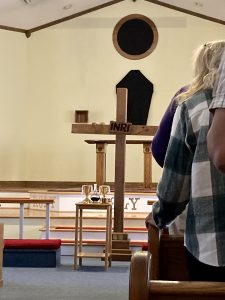 The Rt. Rev Dr. Frank Lyons, Assisting Bishop of ADOTS, has asked all churches in the Diocese to take up a special offering for Christ Church, Jerusalem, as we've done in the past. While there will be no formal Offertory in the service, there will be a special collection plate in the first pew for Christ Church, Jerusalem. Please make checks payable to ADOTS with "Christ Church Jerusalem" in the memo line.
From Bp. Frank:
The history of the Good Friday Offering reaches back to 1922 when, in the aftermath of World War I, The Anglican Church sought to create new relationships with and among the Christians of the Middle East. The Good Friday Offering was created from these initial efforts, which focused on a combination of relief work and the improvement of ecumenical and Anglican relations.
In keeping with this special day of remembrance, and as an expression of our support to the ongoing mission of Christ Church Jerusalem, we are asking each parish to take up a special collection, as you've done in the past, on Good Friday…please note "Christ Church Jerusalem" on the check memo line. 
There is only one tubular bell system in the Holy Land. Housed at the Christ Church Jerusalem, these bells are capable of ringing out hymns, but they have sadly been silent for decades. Christ Church Jerusalem is currently collecting funds to help restore these bells. These bells, through their history, are a remarkable testament to God's faithfulness to the Land of Israel.
For those who are able to give, the Good Friday Offering is a reminder for our Anglican brothers and sisters in Christ Church Jerusalem that The Anglican Diocese of the South stands in solidarity with them in Jesus' Name.
With gratitude to our Lord and Savior Jesus Christ for your generosity, I remain,
Faithfully yours in Christ,
+Frank