Palm Sunday Services April 2, 2023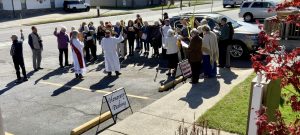 Christ the King Church is pleased to offer two Palm Sunday Services on Sunday, April 2, 2023 at 9AM (Traditional) and 10:30AM (Contemporary). The service will begin outside as we will process into the sanctuary with the palms.
More about Palm Sunday from the ACNA Book of Common Prayer 2019:
Palm Sunday marks the beginning of Holy Week. The procession with palms, which was already observed in Jerusalem in the fourth century, calls to mind the triumphal entry of Jesus, our Lord and King, into Jerusalem. The procession is fundamentally an act of worship, witness, and devotion to our Lord.
Palm Sunday is unique in having two Gospel readings. Originally there were two distinct liturgies. The palms were blessed and the Triumphal Entry Gospel was read outside of the church building. The door of the church represented the gate through which Jesus entered the city.
The purpose of Jesus' journey to Jerusalem was to fulfill his Father's will; thus it is fitting that this service continues with the reading of the Passion Gospel in which the whole story of the week is anticipated. The emphasis of the liturgy turns to the days that lie ahead in Holy Week. We who hail Jesus as King one moment, may in the next deny him, even joining with the crowd in shouting, "Crucify him!"